Wow, it's good to be back! Apologies for the unannounced holiday, my internet has been rather naughty and was not quite so keen to submit to my glowering as other bratty types. But I am back, and have a rather luverly item to talk about: the
Doc Johnson Sasha Grey Glass Butt Plug
in medium!
Swanky, no? When
Lovehoney
first got this range in, I was dying to pick one up, but being the cash-strapped Babe that I am, I had to sit in lusty silence until I was lucky enough to have one wing its way to my doorstep.
This is available in both
Medium
- insertable length 4", circumference 6.25" - and
Large
- insertable length 4.5", circumference 7.5" - and while I like to think of myself as well-trained in bum-play, and am always looking for ways to one-up myself, I had learned my lesson from previous eyes-bigger-than-bum scenarios and opted for the less extreme size. Even the medium size is billed as for more advanced anal aficianados, and to be honest I'm glad I listened to my gut rather than my ego. I've frequently managed 2" diameter with minimal fuss in the past, but I'd never played with anything that large in as unyielding a material, so the jump of almost half an inch might have been pushing things. At the very least, it would have required way more effort to work with than I'd have liked. The solid glass without any mad leap in girth was just enough of a challenge to keep me interested; it definitely took a bit more warm-up than silicone toys of the same size, but the change in how it felt made me more keen to repeat the experience rather than bored of the trouble.
I actually love the packaging, as it's very understated and classy, keeping with the sleek black theme of the plug itself. The gorgeous Sasha Grey features, along with some information on the plug itself. Inside the pretty box, it's housed in Styrofoam, which, while simple and decidedly unsexy, is perfect for keeping the plug snuggled securely out of harms way. I've kept the packaging to store the plug in long-term, which is always a nice bonus.
The main thing I noticed straight off was how thick the neck is compared to other plugs I'd used. To be honest, I saw this as a positive, as my main concern was getting it out once I was finished playing, and with it being so steeply graded between the widest point and the neck, I would have worried about forcing my muscles to re-stretch after they'd relaxed around it had it been slimmer.
Using it, I found it a bit of a challenge, but not quite as harsh as I'd anticipated. While I wouldn't recommend it to a beginner, if you're capable of taking 'soft' toys of a similar girth, it won't be too much of a jump to move on to this baby. Bonus with it being glass, I was able to use my favourite silicone lube, which in my opinion does seriously ease any kind of anal play. The shaping of the tip, along with the gradual increase of the 'bulb' and the smoothness of the glass, makes it quite easy to get a start on it, and slowly work it in. I hadn't expected to master it on the first attempt, but when I found that, almost by accident, I was getting it almost fully inserted, I gave it a bit more wiggling and it just popped in.
While there was a very noticeable closing as the largest part of the bulb passed and the plug moved swiftly to the neck, the thickness of the neck kept me feeling slightly stretched, almost the same as one of my slimmer dildos except it held itself in place. Essentially, I had the penetrative feeling of a dildo, along with the internal bulge of the plug, and which I could just leave as is, or wiggle a little as I felt like it. The one minor niggle I had was that I found the neck to be slightly too short for me, so part of the underside of the bulb was still stretching me, which meant I'd find it too intense after a while. This wasn't enough to put me off, as I was still able to wear it for a decent play session, but I think I'd struggle if I was trying to put it in and then take my time over things.
The base doesn't look all that large compared to the neck, but as it's so rigid, it holds securely. It's also relatively thick, which helps to get a firm grip on it for extraction, even when it's plenty slippery.
The entire thing is beautifully made, with no horrid cracks or blemishes: it's perfectly smooth and solid, and, while weighty, isn't quite as heavy as metal, so it's a really good option for people nervous about going for something too hefty. And beautiful to boot! While I wouldn't advise leaving it out on the mantle, it really is something I find myself just turning over in my hands to ogle from time to time. Especially just after a cleaning when it's glistening with little droplets of water. amazing how something so simple can be even prettier than items that have a thousand different bells and whistles! Putting the 'ass' back in 'class', for sure.
Glass in general is fun not just because it's so solid and weighty, but also for temperature play. I found that warming the plug up made it easier to insert than if it's room temperature or cooled. The Pyrex glass is wonderful for this kind of play, because it holds a temperature quite well, but doesn't absorb it overly fast, meaning there's less risk of over-heating (or over-cooling), so I have a bit more control over exactly how I'm going to use it. I've predominantly used an aluminium dildo for temperature play, and found it gets very hot very fast, which is fine if I've prepared a bowl of perfectly-heated water to dunk it in, but means if I take it into the bath with me, or want to run it under the tap, I've found it can get just that bit hotter than I'd like, so I like being able to have that level of control without putting so much prep work in.
As with toys used for anal play, it's important to be mildly paranoid about cleanliness. I've frequently sighed over having to use a condom over a toy, or spending ages making sure that little divots and dents are thoroughly cleaned, or even just having to resign myself to not sharing a toy with a partner. Glass is wonderful for keeping clean, especially when it's so smooth and free of textures or seams or other bacterial hotspots. Obviously, you'd still want to give it more than a quick rinse, but the fact that I can use it as is, sterilise it, and then feel okay about sharing it with The Boy, is a definite plus. It doesn't hold smells, there's no gunk-gathering areas, and it'll take a vigorous cleaning without getting damaged.
Pros:
It's smooth Pyrex glass, so very easy to clean and a bonus for those who like to share;
Seriously filling, and a good option for those who want a bit of a challenge without going too girthy;
Great for temperature play;
Pretty as all hell, that opaque black sheen is just captivating;
Flawless quality, you can trust that what goes in will come back out!
Cons:
Neck is a touch short for folk like me;
Being glass, the base does poke into your cheeks, which gets a bit uncomfortable if you were hoping to wear it around all day.
Rating:
4.5 sexy-chick glasses out of 5
Highly recommended!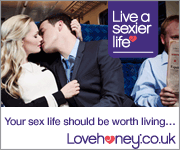 This toy was provided to me free of charge by Lovehoney in exchange for a fair review. I have received no payment and my opinions have not been influenced or altered in any way.